April 22, 2022
You are considered a high-risk contact of someone who has COVID-19. A high-risk contact is someone who had close contact with a positive case during their contagious period. People can be contagious with COVID-19 for 48 hours before their symptoms start. If they did not have symptoms, their contagious period is considered to be 48 hours before their positive test result (whichever came first). Close contact is:
Any face-to-face contact (2 metres or closer) for a total of 15 minutes or longer (even if there were several shorter interactions that added up to 15 minutes, and even if wearing a mask).
Any face-to-face or physical contact while one or both people were not wearing a mask and within 2 metres for any length of time.
Received or provided any service or interaction without appropriate and consistent use of PPE (medical mask and eye protection) for any length of time.
Due to your close contact with a positive case, you are at risk of developing COVID-19. COVID-19 can be spread before symptoms develop. In order to stop the spread of the virus, please follow these instructions.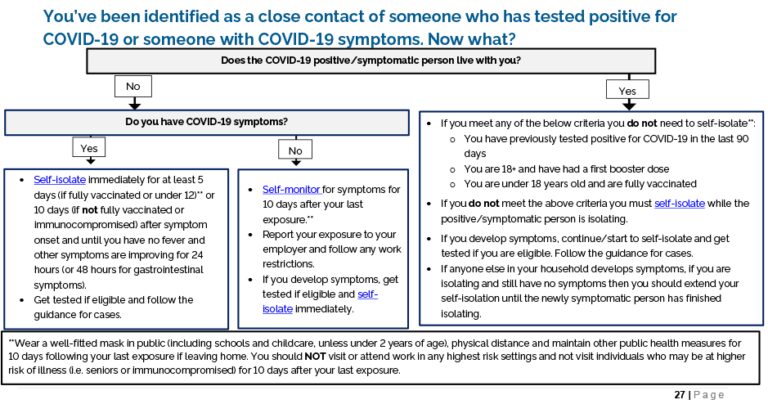 If you live with someone who has symptoms of COVID-19 or has tested positive for the virus, you must isolate for the same amount of time as the positive case, unless:
you are 18 years of age and older and have already received your booster dose.
You are under 18 years of age and fully vaccinated.
You have previously tested positive for COVID-19 in the past 90 days, have completed your required isolation, and do not have any symptoms.
If you have no symptoms, do not live with the positive case and are otherwise healthy, for 10 days after your last exposure (or 20 days for immunocompromised individuals), self isolation is not required, regardless of your vaccination status. HOWEVER, you must:
Self-monitor for symptoms, and isolate as required if symptoms develop
Continue to wear a well-fitted mask in all public settings

Reasonable exceptions would include temporary removal for essential activities like eating (e.g., when eating in shared space at school/work while maintaining as much distancing from others as possible)
Avoid activities where mask removal would be necessary (e.g., dining out)
Note: Individuals who are exempt from masking (e.g., children under two years of age, etc.) may return to public settings without masking

Not visit anyone who is immunocompromised or at higher risk of illness (i.e., seniors)
Not visit or attend work in any highest-risk settings*.
*If you live, work, attend, volunteer, or have been admitted in a high-risk setting*,
Any high risk contacts of a COVID-19 case must NOT attend a highest risk setting* for 10 days. IF you are a staff member of a highest risk setting please inform your employer as early return to work to mitigate critical staffing shortages may apply. Follow all other guidance provided to individuals who have been exposed to COVID-19.
Seeking health care
If you develop concerning symptoms, such as difficulty breathing, chest pain, confusion/not knowing where you are, loss of consciousness, call 911.
For more information
The ministry has launched a new toll-free line as an additional resource to help answer questions from the public regarding evolving COVID-19 testing and isolation guidance. The line can be reached at: 1-888-777-0730, and is available from 8am-6pm, Monday to Sunday.
You can also find additional information on the following pages:
If you need immediate medical assistance, please call Telehealth Ontario 24 hours a day at 1-866-797-0000.
*Highest risk settings include: Hospitals and health care settings, including complex continuing care facilities and acute care facilities, congregate living settings, such as long-term care and retirement homes, First Nation elder care lodges, group homes, shelters, hospices, temporary foreign worker settings, correctional institutions, demonstration schools or hospital schools