Health and education are linked. Healthy young people are better learners and are more likely to complete their education. Those with a good education are more likely to have better health status.
The Important Role of Schools
Promoting well-being is one of the core goals of the Ontario Ministry of Education's Achieving Excellence vision. Schools are tasked with developing learning environments that promote and support student well-being – to focus not just on academic success, but also on the whole child so that they may reach their full potential.
The New HPEPH Healthy Schools Program
The Healthy Schools Program has been developed based on input from local educators, principals, support staff, and school board staff.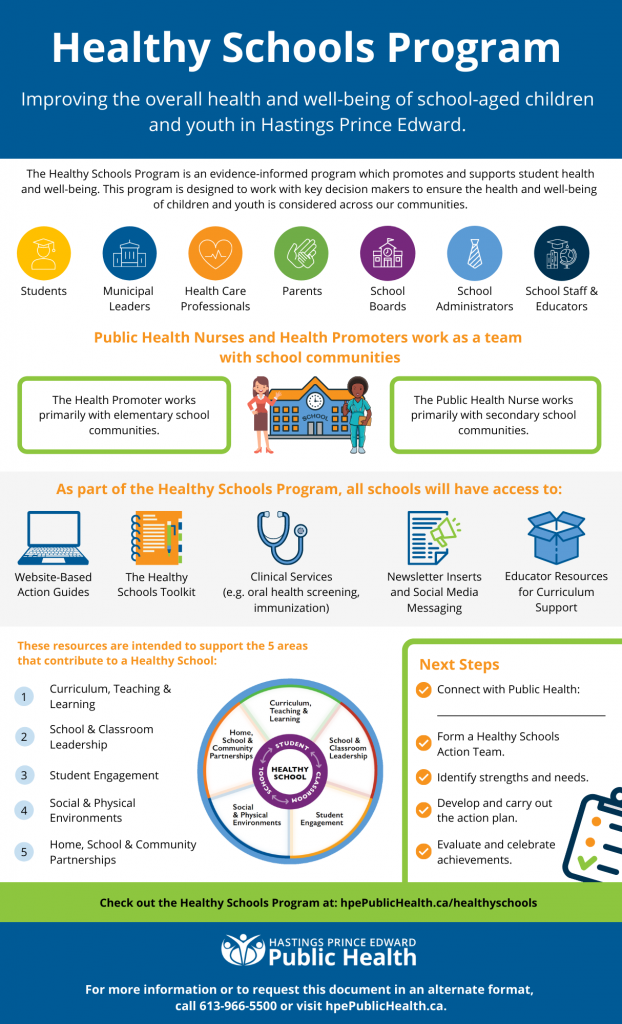 With the program, schools will receive:
clinical services such as immunizations, sexual health clinics, tobacco and vaping cessation, mental health, vision screening and oral health screenings provided directly within schools.
health promotion resource guides, based on the Ministry of Education's Foundations for a Healthy School Framework, which uses a whole school approach to address health topics in the classroom, school and community. These health topics are:
newsletter inserts, social media messaging and roll-up banners to bring awareness to the school community regarding relevant health topics.
educator resource kits designed to support educator in teaching the health-related curriculum in a fun and interactive way. Book one online by clicking here.
supports to create healthy schools in partnership with students, school staff, families and community partners.
The Healthy Schools Toolkit
The purpose of this resource is to assist schools in creating a healthy school environment by providing strategies, tips and tools that focus on a comprehensive approach to school health. The Healthy Schools Toolkit will guide you through a four step process to help you along your healthy school journey. A comprehensive Healthy Schools approach is the most effective method to address the needs of children, families, schools and communities. This integrated approach to health promotion gives students numerous opportunities to participate in, observe and learn positive health attitudes and behaviours.
Click the image above to download the action team resource for secondary students and teachers.
Healthy Schools Toolkit Tools
(click image above for a PDF booklet version of the tools)
Together we can create healthy school communities!
Monitoring and evaluation
Learn more: